So yes despite my best intentions ive purchased obscene amounts of polish lately so there'll be a considerable amount of swatches for a while. This covers quite a big chunk though, as I got a little carried away over at taras
etsy shop
.
Now, exciting times, im experimenting with posting from my tab in hopes of actually being able to integrate photos into the text so here goes....
The order I placed was for a purple holo, a Halloween Frankenstein polish, a purple nail art pen and a mystery bag of four 10ml polishes...cos I do love a surprise :p.
First up is the purple holo 'show me the stars'. Unfortunately I never got a chance to take pics in the sunshine but it was beautiful. For now we'll make do with a flash photo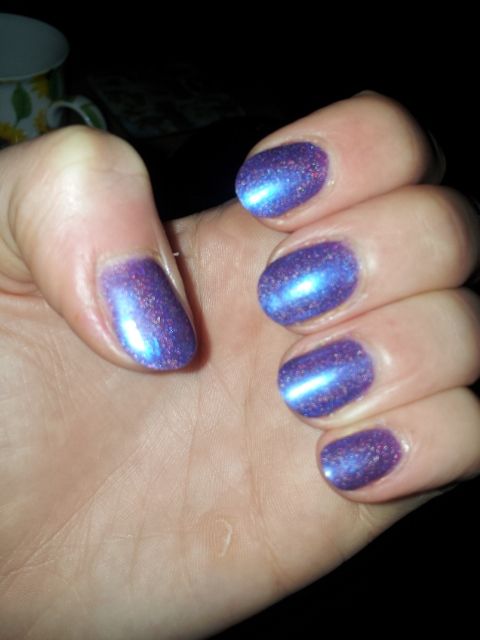 Sticking with purple next is the frankenstein polish which i named 'purple people eater' cos i lack imagination ;)
I
Im really sad about the crappiness of this pic cos the polishnis seriously beautiful, and easy to work with too (self-confessed glitter hater :p). I think id like to try it layered over something too i just haven't decided what yet!
Aaaanyway, final addition to my purple hoard was a nail art pen in 'very violet'....taras nail art pens are such fun, there's such a huge variety of colours! Since i fail at nail art i have a few...but not a purple so i decided to rectify that imediately. the pen is double ended in that it comes with a skinny brush along with the pen nib. I may do a proper post just on this some day, for now here's a quick writing sample.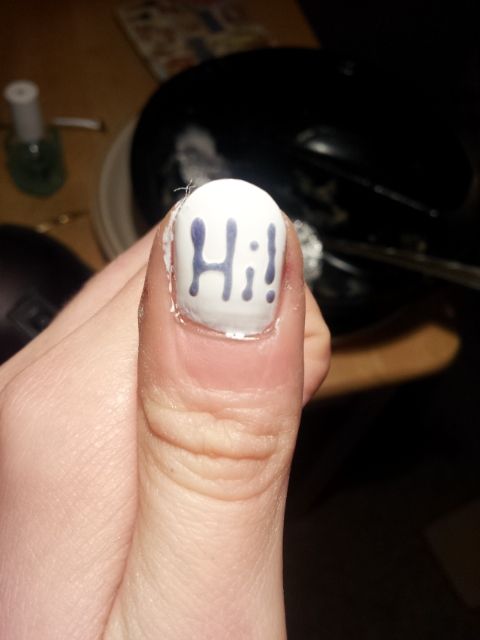 Um the colour really isn't as grey as my photo makes it look!
right onto the mysery polishes.
First up was 'wooden boy'...now, ok, this is a really pretty and interesting polish i promise. But im so ashamed of my swatching effort here that i nearly didn't post it. I was tired and it was getting late and the light in our living room sucks just for seeing nvm photography. Anyway, excuses aside, try to look beyond the scruffiness and blurriness to a beautifil deep coppery bronze chock full of darker brown hexes and shimmering like mad. Im determined to get a better pic soon, until that day comes:
Next up is toy train which is a yummy juicy green. I dunno why for some reason i think of food when i look at this...possibly im just food obsessed lol. It was nice to work with...plus the norwich city fan hiding inside me quite wants to combine this with sandcastles, also from tara, in a canaries design hehe.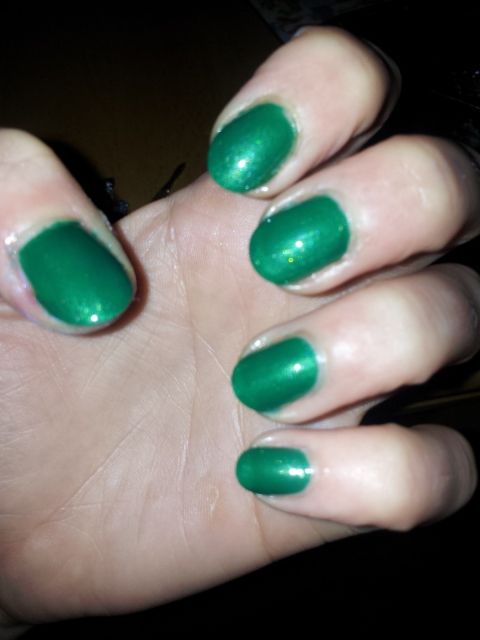 Next we have believe...which is a fun kinda polish. A metalluc shimmery blue with allsorts of different coloured glitters swimming around. I say swimming because this one makes me think of the sea and coral reefs...and it's possible i have an overactive imagination. Ill just post the pic shall i?
If you're wondering about the missing thumb...i smudged it :p lol. This also isn't as lumpy as it looks think it's the angle of the light or something.
.....unfortunately i forgot to add the pics of the last polish to my photobucket. If you want to check it out though its called bon bon and it's the one i used as a base for my 33dc striping mani.
think it may be bed time. Don't forget to check out
taras talons